Charities
Many of our classmates labor on behalf of charities they are passionate about, and some classmates have founded charities in response to personal hardship and loss. This is a list of those charities along with an explanation of why it's included on this page.

ABOUT YOGA WARRIORS (Donna Terrell)
Fox16 News Anchor Donna Terrell's daughter, Queah (pronounced: Quaya) was first diagnosed with colon cancer in her twenties. She had no known family history and was misdiagnosed twice before doctors discovered the late-stage tumor. After gaining awareness of her diagnosis she set out to educate others – especially young people about the warning signs. One of the hospitals where she received treatments offered free yoga classes to survivors which is how she was introduced to the practice and its benefits.
Oncologists say yoga is useful in helping to relieve stress and some of the symptoms of cancer and its associated treatments. They also say it can help alleviate symptoms from chronic diseases including arthritis, heart disease, lupus and diabetes. Continued yoga practice can lead to increased relaxation and physical fitness.
Yoga Warriors promotes the practice and brings awareness of early detection for colon and other cancers. We provide free bi-weekly morning and evening classes for patients, survivors and their caregivers on the Carti Cancer Center campus. Our yoga instructor is licensed to provide instruction to cancer survivors. To make it convenient for our participants we provide yoga mats and accessories at all of our classes.
We also raise money for liquid nutritional supplements for cancer survivors. Any cancer patient can benefit from these supplements, but we have discovered that for some it's a life saver. We have been able to make it available free of costs for people needing financial assistance.
Yoga Warriors is a 501(c)3 non profit organization. You can donate at their web site or facebook page:
YogaWarriors.Org * Yoga Warriors Facebook Page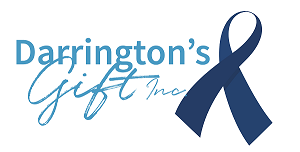 ABOUT DARRINGTON'S GIFT (Linda Peterson-Lovelace)
Darrington Lovelace was a very friendly and caring young man, who loved his family and friends. He was quite a striking young fellow, possessing a giant heart and smile to go along with it. Darrington considered no one a stranger, as his outgoing personality allowed him to befriend people easily. He was quite the jokester. He enjoyed laughter, and making other people laugh as well. He was very proficient in both the classroom and the Arts. Some of his hobbies included singing, dancing, acting, shopping, watching movies, and spending quality time with those he loved most.
Darrington was a very good student at all levels of academia, but he especially excelled in high school and college. His long-term goal was to become a Physical Therapy Assistant (PTA), and later follow that by obtaining a Doctorate Degree in Physical Therapy or a Medical Degree. He was very focused and knew what he wanted.
Darrington was well on his way when he was diagnosed with Colon Cancer. While battling cancer, he was always thinking about his classes, classmates, and his ambitions. Even in the last year of his battle, he wanted nothing more than to be able to sit in a classroom again and be a regular student once more. Unfortunately, that never happened as he was too ill to do so. Darrington passed away at the age of 27 years young, due to complications related to cancer. Although he is absent physically, he is forever present in the hearts of those who loved and knew him.
You can donate or become a sponsor at their web site:

FREINDS OF THE BOHM
Albion's Historic Bohm Theatre at the Davis Center for Film and Performing Arts, operates as a premier film and performing arts facility in south-central Michigan, offering diverse artistic, cultural, and educational programming that will stimulate community engagement and collaboration, foster accessibility to the arts, meet the highest expectations of patrons, artists and employees, and inspire individuals to expand their knowledge, involvement and support of the arts.
The easiest way to support the Bohm is to become a member. Bohm Theatre members are the foundation of our organization. Membership funds help support our day-to-day operations of this historic community treasure.
How does your membership make a difference?
You help protect and preserve this wonderfully restored historic building with its beautiful interior and state of the art film presentation.
You support award-winning programming that educates, enlightens and entertains.
You promote excellence and innovation as recognized by the Michigan Council for the Arts and Cultural Affairs.
Your support helps keep our ticket prices at a reduced rate to engage our entire community.
You become a part of our family of supporters who continue to preserve the Bohm Theatre.
The Friends of the Bohm Theatre is a 501c3 non-profit organization. Your membership is tax deductible and provides key support that will ensure that the Bohm Theatre continues to be a venue for film, performing arts, education and community activities.